English as a Global Language
While English isn't the most spoken language on earth, it is the language that is spoken in most places in the world. This is what designates English as a Global Language. If you want to study Neurosurgery at Stanford University, you'll have to know English. You have a startup company in France, that's going to revolutionize the smartphone industry. If you want to have your phones manufactured in China, you'll need to know English. You're from Russia, and spending your holiday at a hotel in North Bali. When you go out to the restaurant to order coffee from a native Balinese, you'll need to know at least enough English to get your needs met.
Table of Contents
Standard Means of Communication
Are you ready to spread English across the globe?
This post was written by our TEFL certification graduate Bryan B.
Standard Means of Communication
English is the gold standard for communicating across international lines. In many businesses in Sweden, companies speak English internally. This is because so many industries rely on English to describe their products and facilities. For example, the terminology used in reference to the internet relies on English. English is the designated language for international air traffic control.
Benefits
It is a distinct advantage to learn English as a second language. Most international companies require their employees to speak English. In order to be a tour guide at the Vatican, you need to be able to speak English. Not only is the language of industries, but off the clock, it is the essential language of networking, and developing relationships to further one's career. For some, learning English is required in order to pursue their business careers or education goals. For others, learning English is a means of expanding their horizons.
A thorough understanding of English can yield wonderful results. There is rich ore to mine in literature, movies, music, and art. Being able to share these experiences in a multi-cultural environment would involve a common understanding of English. This being said, English can be a difficult language to learn. To address this, the term "Globish" was coined by Jean-Paul Nerriere in the mid-1990s to refer to a subset of English. Based on a vocabulary of 1,500 words, non-native speakers can quickly learn enough Globish to communicate in the business world. Globish is less of a language and more of a means of communication. This is a great starting point for being able to get a leg up in the business world.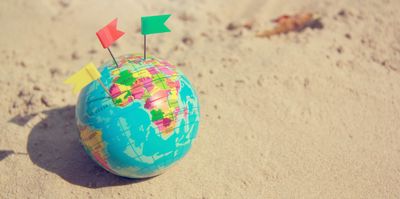 Opportunities
Teaching English as a second language is an ever growing industry. If one chooses, it can result in an opportunity to travel and live abroad. By getting to know the resident country, it's a great way to expand one's consciousness about global culture. As a bonus, to be able to teach English, it's vital to grow one's own understanding of the language. As native speakers, we can take our understanding of English for granted. By embarking on a career of teaching it, we become more aware and intimate with our native tongue.
Self-development
While Globish is a great alternative for a subset of non-native speakers, many learners want to have a broad understanding of English. They are quite interested in the nuance, and idioms of the language. They would like to understand and express, the wit and drama that they see in the movies from Hollywood. To be able to quote from Die Hard, or Monty Python's "The Search for the Holy Grail. The experience of English music or literature can create common ground between people of different backgrounds. For example, to be able to take in the emotional content of James Taylor, or Elizabeth Gilbert, and express one's views on them. It's clear that while it may not always be so, currently English is the global language of our time.
Are you ready to spread English across the globe?
Apply now & get certified to teach english abroad!
Speak with an ITTT advisor today to put together your personal plan for teaching English abroad!
Send us an email or call us toll-free at 1-800-490-0531 to speak with an ITTT advisor today.
Related Articles:
Listen to this blog post
---
---