Blog
» The Best Teaching Ideas for TEFL Teachers
The Best Teaching Ideas for TEFL Teachers

Use these 4 activities for the ESL classroom to teach the future simple to your students and help them understand the correct structure and usage of the tense both quickly and easily.
Teaching business English is a rewarding experience and you can make your classes even more interesting for your students with these 7 ideas. Each idea will encourage creative use of the language and high student talk time ensuring your students get the most out of their time in your classes.
Do you want to know what it's like to teach English online? In this blog post, an online teacher reveals her secrets, sharing everything you need to know about starting your own career in teaching English online!
Teaching aids and course materials is a great way to make a lesson more interactive and to grab your students' attention. But is there a downside to using course materials? Check out this post to find out.
Lesson planning is an important part of a teacher's daily life. This guide is for both new and experienced teachers on how to write the perfect ESL lesson plan.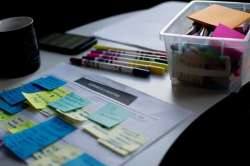 This story was written by one of our TEFL course alumni who shares the five most important skills a teacher needs to set their students up for success.
As an EFL teacher abroad, you might not only encounter monolingual local students in the country you are teaching, but also multilingual students who are not only learning English but also the language of the country they live in. Here are the major differences in teaching monolingual and multilingual EFL groups.
This story is written by one of our TEFL course alumni who shares their thoughts on the most useful corrections techniques in the EFL classroom.
This story is written by one of our TEFL course alumni who shares 8 important tips for good classroom management.
A lot of English teachers abroad teach English winter camps in a variety of formats at both private and public schools across the world. These activities for teaching English winter camp will help you create fun lessons your students will always remember!