5 Benefits of Sharing a 17sq-meter Apartment in Tokyo on the JET Program
In 2019, my sister and I received the exciting news that we had been accepted into the JET Program to live and teach English in Japan! If you have ever looked at teaching in Japan, or even Asia in general, you have probably come across the JET Program before. JET allows you to live and work in Japan as an Assistant Language Teacher (ALT) while earning one of the highest wages you can get as an ALT.
The catch is: you could be placed anywhere in Japan. My sister and I didn't actually write any location preferences, but honestly, we didn't want to be in Tokyo. That might sound crazy to a lot of people. Why wouldn't you want to live in Tokyo?! Well, we grew up in rural Queensland, Australia, so moving to the biggest city in the world was quite daunting.
But we both got placed in Tokyo.
So here's what it's like sharing a 17sq-meter apartment in Tokyo on the JET Program!
1. The freedom of choice
If you are a JET placed in a rural area, 90% of the time, you are given an apartment that is passed down from JET to JET and is often very cheap to rent. Sounds great to me, but some JETs end up in very old houses and wish they could have chosen for themselves.
However, when you are a JET placed in Tokyo, you are left to fend for yourself, but that allows you to choose the apartment you want. Cheap, expensive, close to school, in a quiet area, next to a train station - the city is your oyster!
My sister and I took a huge risk and accepted an apartment before coming to Japan. It was just easier when moving across the world that we knew we had somewhere to live. We had all the photos and all the dimensions for the apartment - but you can't really imagine how small 17sq meters is until you walk in.
Spoiler: it's small. BUT, the apartment is almost brand-new, so 18 months on, the apartment still feels like new. It's also right next to a park, which is right next to a very convenient train line. Oh, and have you ever heard of the big shopping district Ikebukuro? Well, we can walk there in just 15 mins.
Location is everything!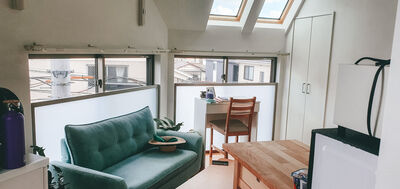 2. Everything becomes cheaper
A lot of people thought we would go crazy sharing such a small space with no separate rooms. Our beds are literally just 1 meter apart from each other in our loft. However, because we share what is technically a one-bedroom, it's quite cheap for us!
We pay 97,000 yen per month between the two of us (most JETs pay about 70,000 each per month). In addition to that, of course, all of the electricity, gas, water, internet, and furniture is all divided, too. This allows us to save a lot of money, which we are able to spend on trips around Japan!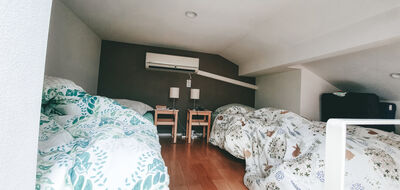 3. What household chores?
Of course, we have the same housework to do like everyone else, but it takes a lot less time. Since the apartment is so small, our vacuum cleaner is too. It's about 50cm high and handheld, which means you can zip around the apartment whenever you like.
The kitchen is tiny, the floor space is tiny, and the bathroom is a wet room. All very quick and easy to clean. So, our Sunday mornings usually involve a quick run around the house, and all cleaning is done within half an hour at most. Then we can get on with our travels!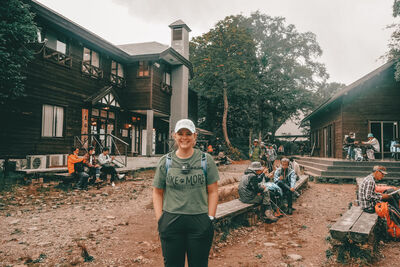 4. A tiny apartment makes you leave said tiny apartment
Luckily, we love traveling and exploring new places, but having a small apartment really pushes you out the door on the weekends. Fortunately, we do have a loft which one of us can escape to when the proximity is getting a little much, but you are still in the same room. So, it's easier to leave the apartment and get some fresh air.
The bonus of being on the JET Program is that you aren't held to the same insane working standards as other people are in Japan. That means a full 2-day weekend and normal 8-hour work days for most of us. It's very easy to get in a quick weekend getaway, which is even easier when you just have to lock the door of your tiny apartment and walk out into the big wide world. Not to mention, EVERYTHING seems bigger to us now. Anytime we stay in a hotel, we are really grateful because it's often bigger than our apartment.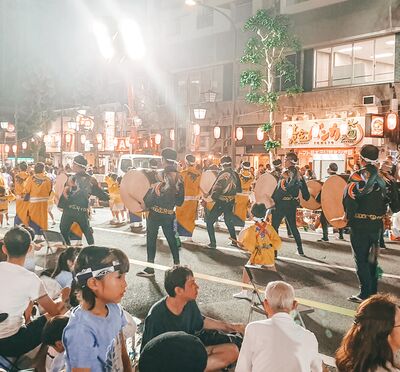 5. A minimalist dream
If you're coming to Japan on the JET Program, chances are that you will only be allowed a maximum of 2 checked bags on the plane. That means your whole life has to fit into those two bags. That wasn't really a problem for me as I've never been one to have a lot of stuff. However, if you're not planning on staying in Japan forever, you definitely want to avoid accumulating too much stuff.
Seriously, I couldn't stress that enough because when it's time to return home after a few years, you don't want massive shipping costs to get everything home that you bought in Japan. The benefit of having a tiny apartment with ONE cupboard is that you literally can't accumulate unnecessary stuff. There's a limit on what you can buy which is great because when we decide to move back to Australia, we won't have to deal with the stress of sending all our newfound goods home.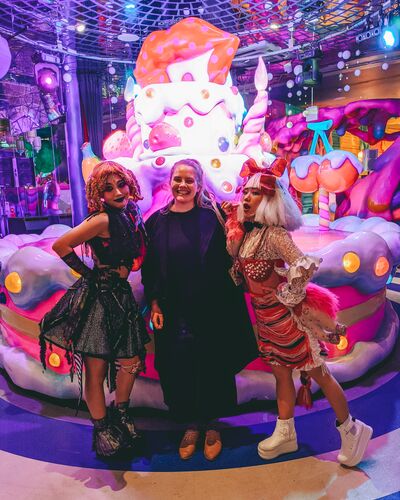 Are you ready to teach English in Japan?
If you're heading to Japan on the JET Program, be prepared for the fact that you could potentially be living in a very small space! But don't fear, there are so many benefits to living in a small space and honestly, you get used to it very quickly. It's just all part of living in the biggest city in the world!
Apply now & get certified to teach english abroad!
Speak with an ITTT advisor today to put together your personal plan for teaching English abroad!
Send us an email or call us toll-free at 1-800-490-0531 to speak with an ITTT advisor today.
Related Articles:
Check out what our course grads say in our many video testimonials!
---
---