3 Main Differences between One-To-One and Group Teaching
Deciding whether to teach individuals or group classes can be difficult. There are many similarities as well as differences. The perusal of these two kinds of classes led to charting each difference and similarity. Many of the differences fell under three categories. These three major differences between teaching one-to-one and groups are the class set up, students' goals/motivations and available activities.
This post was written by our TEFL certification graduate Jade B. Please note that this blog post might not necessarily represent the beliefs or opinions of ITTT.
Individual Tutoring
Teaching individuals can be nerve-racking itself; the class consists of just the teacher and one student. The traditional dynamics of a classroom is difficult to achieve comfortably and so becomes less formal. These students hail primarily from an increase in business demand and cancellation of classes becomes common. Finding out what can interfere with lessons and homework completion can help to improve the student's language acquisition success rate.
Also Read: How can I avoid scams when looking for TEFL jobs?
Individuals who seek this kind of class have high motivation as they have goals that they wish to accomplish. To help these students to achieve their success, similar to traditional classes, it is important to complete a needs analysis form to know what the student wants from the class. Arranging a combination of wants and needs is how to succeed in creating a course that produces a greater understanding of the English language. In the physical or online classroom, the focus between the student and teacher is direct and activities are split between the student individually and the inclusion of the teacher.
Many one-on-one activities can be implemented in teaching individuals. These activities focus on solo or paired work that the teacher participates in. In this aspect, activities of the one-to-one class are limited, as there are no other participants available for students to practice with.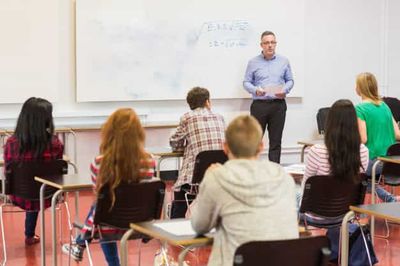 Also Read: How long does it take to get a TEFL job?
Working With a Group
The group classes can be a harrowing feat in itself; there are more students thus creating a more traditional classroom setting. The classroom and student arrangement itself can be modified for better participation. Managing the class can become more difficult the more students there are; the more problems are bound to show the larger the group. With more students, classroom arrangement and vocal regulation of clarity, range, variety, and project become important to all students' success in learning and acquiring proper knowledge and understanding of English. Goals can be met and motivation can be constructed with enjoyable, interactive lessons.
Also Read: Do TEFL teachers need a second language?
Many group classes focus on a broad educational or institutional goal. Motivations are varied and often lower in this kind of group as participation is usually a requirement and not a personal choice. In such cases, the teacher needs to build rapport and involve students' interests to promote motivation for attendance and learning. Shaping lessons around interesting topics can create activities that have successful participation.
The activities and groupings that are available increase exponentially when there is more than one student. Grouping for activities can be done as a whole class, on own, in pairs or small groups. The plethora of activities that can be created and used in various stages and lessons has increased. With more activities, available teacher talk time can decrease and students can have more opportunities to practice their skills and build knowledge from each other.
Do you want to teach English abroad? Take a TEFL course!
To recount, one-on-one and group classes each have good points and downsides in their differences. The classroom dynamics change depending on the type of class. Student motivation is vastly different between those who choose to be in the class and those who are required. The many activities that can be executed in each group have different limitations and potential. Deciding which kind of class to teach is up to how the teacher themselves feel that they can manage and help students to obtain correct knowledge and understanding of English.
Apply now & get certified to teach english abroad!
Speak with an ITTT advisor today to put together your personal plan for teaching English abroad.
Send us an email or call us toll-free at 1-800-490-0531 to speak with an ITTT advisor today.
Related Articles: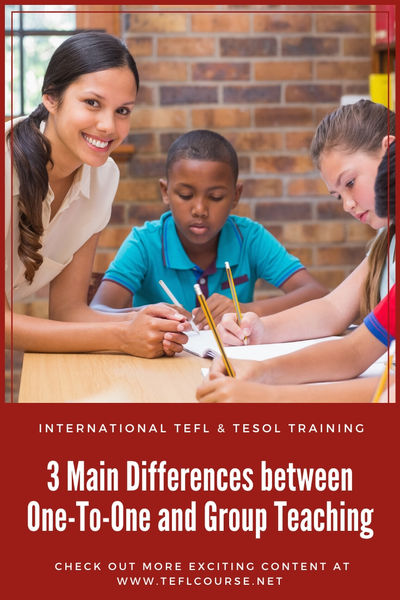 ---
---