Here you will find a useful list of common sentence starters that you can use in an English discussion as well as in essay writing. Learn these sentence starters to improve your English speaking and writing skills.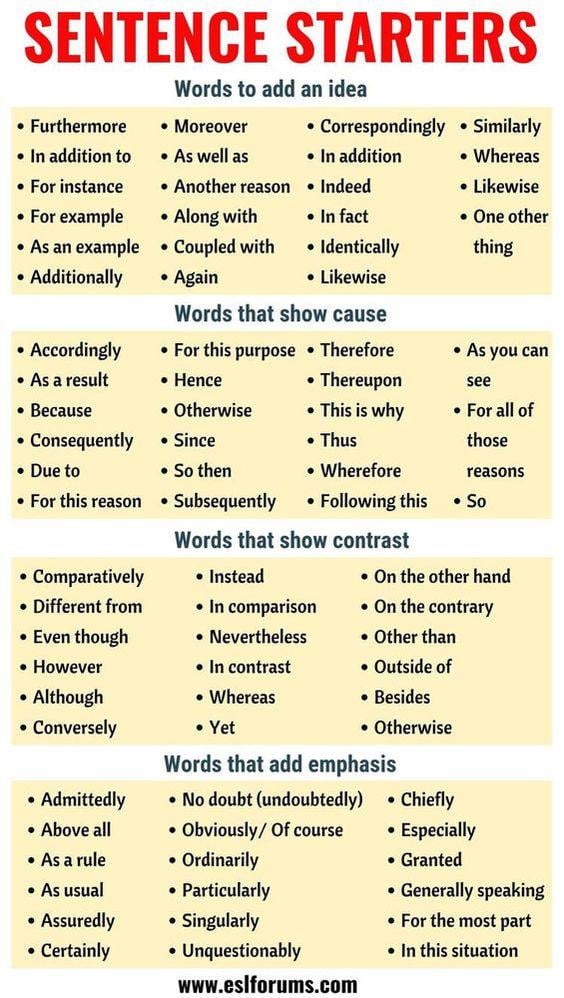 WORDS YOU CAN USE AS SENTENCE STARTERS
Words to add an idea
In addition to
For instance
For example
As an example
Additionally
Moreover
Furthermore
As well as
Another reason
Along with
Coupled with
Correspondingly
In addition
Indeed
In factIdentically
Likewise
Again
Similarly
Whereas
Likewise
One other thing

Words that show cause
Accordingly
As a result
Because
Consequently
Due to
For this reason
For this purpose
Hence
Otherwise
Since
So then
Subsequently
Therefore
Thereupon
This is why
Thus
Wherefore
Following this
As you can see
For all of those reasons
So
Words that show contrast
Comparatively
Different from
Even though
However (however synonyms)
Although
Conversely
Instead
In comparison
Nevertheless
In contrast
Whereas
Yet
On the one hand… On the other hand
On the contrary
Other than
Outside of
Besides
Otherwise
Words that add emphasis
Admittedly
Above all
As a rule
As usual
Assuredly
Certainly
Chiefly
Especially
Granted
Generally speaking
For the most part In this situation
No doubt (undoubtedly)
Obviously
Of course
Ordinarily
Particularly
Singularly
Unquestionably
Usually
Are you interested in teaching English as a foreign language?
​Get your TEFL or TESOL certificate with ITTT.
Register now & get certified to teach english abroad!
ENDBODY