The Life of an ESL Teacher in Hong Kong
If you are thinking of moving to Hong Kong to teach English, this article is a great overview of how an ESL teacher's life in Hong Kong can be. English is widely spoken in Hong Kong, and even young children start their English education very early. Many parents place their children in English institutions early on, which shows how important English education is in Hong Kong. That's why Hong Kong offers many opportunities for ESL teachers, and you can find placements in a variety of school settings, from kindergartens, learning centers to private tutoring lessons.
Let's take a look what a typical day in the life of an ESL teacher in Hong Kong looks like.
Morning schedule
Most schools expect you to be in your classroom at 8:30, ready to welcome the students coming in. Hong Kong transportation is efficient and on time, but, I still recommend leaving home a bit earlier because there is a lot of traffic in the morning. The bus and the MTR (underground) is crowded and packed with people, and you sometimes have to wait for several trains before getting in.
I usually wake up at 7:00 to be ready at school at 8:30.
By the time all students are in class, it's around 8:50, and the first lesson starts at 9. This leaves me with 10 minutes to prepare the lesson materials and have a quick look at the lesson plans for the rest of the day.
At 10:30, while the students have their 15-minute snack time, I usually correct their homework.
The morning lessons end at noon, and by 12:30, all students have already left the school. Then I start my teacher lunchtime.
Lunchtime
As the afternoon school session starts at 13:30, the students begin to come in at 13:10. This only gives me 40 minutes for lunch.
Most schools offer in-house lunch, consisting of Chinese rice dishes or noodles with steamed vegetables, which I really like. You can also bring your own lunch or go out to eat.
During lunchtime, both Chinese and foreign teachers eat lunch together and chat until classes start again.
Afternoon classes
All students are ready for their afternoon classes at 1:30 PM.
As many schools provide the teachers with curriculums and lesson plans, the morning's preparation time is enough.
However, to run a smooth lesson, it is the teacher's responsibility to keep their students focused during the lesson.
At 3 PM, the students have their afternoon snack time. Just like the morning snack time, this is usually when I correct their homework. Usually, in kindergartens in the afternoon, there are mainly K3 classes. K3 students have more homework and so, when the students bring the homework back to school, it takes me longer to correct them all. I typically finish correcting when the students will leave the school at 4:30, having roughly 30 minutes to finish to correct them.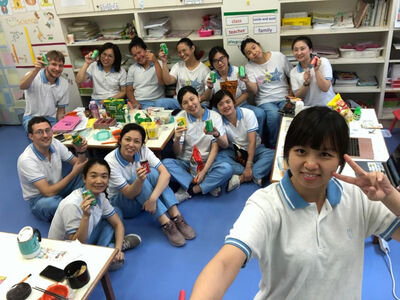 Gianluca with his co-teachers in Hong Kong
Time to leave
Once the students leave school at 4:30, I go back to my classroom and finish to correct any remaining homework. I also arrange my teaching materials and look at lesson plans for the next day. When it's 5 o'clock, it's time to leave and enjoy the rest of the day.
Lesson time
The actual teaching time is about 20 minutes per class. The students all sit in a circle in front of you, and you start with a conversation on how they feel and what they had for breakfast or lunch, just to warm them up.
Then we sing a song and, after that, you go through the teaching points on the curriculum, making sure to leave enough time to demonstrate to them how to perform homework once they are back home.
After 20 minutes of English, the students also receive a 20-minute lesson from their Chinese teacher before snack time. After the snack, the students play games and sing songs, do arts and crafts, and, for the older students, we would do writing practice.
Teacher meetings and school events
During the week, the teachers also participate in meetings with the vice-principal to discuss upcoming events or simply to talk about other issues regarding the school and students.
Usually, kindergartens are open from Monday to Friday but, 3 to 5 times during the year, the schools will organize extracurricular events such as going to Disneyland, a local farm, Chinese New Year party, and at the end of the year on a Saturday there will be the graduation day, which only lasts between 3 to 5 hours.
Are you ready to teach English in Hong Kong?
So here you have it, a typical day for an ESL teacher in Hong Kong. If you plan to move to Hong Kong as a TEFL teacher, I am certain that you will have the time of your life.
Apply now & get certified to teach english abroad!
Join our 4-week TEFL in-class course in Hong Kong and speak with an ITTT advisor today to put together your personal plan for teaching English abroad.
Send us an email or call us toll-free at 1-800-490-0531 to speak with an ITTT advisor today.
Related Articles:
Check out what our course grads say in our many video testimonials!
---
---