Confident Student - Happy Teacher
When in China do as the Chinese do and so I did. There I was on one delightfully awkward dinner evening with my newly acquired boss and some prominent members of the community. All seated around a circular table, ensuring everyone could make eye contact with each other, there was no hiding here. After some very basic introductions in English, a quick Mandarin joke from my boss and a communal lifting and sinking of drinks, the food for the evening began filling the table from all directions. People began preparing themselves to dive into the unusual looking dishes and so I followed their example.
This post was written by our TEFL certification graduate Don St. Please note that this blog post might not necessarily represent the beliefs or opinions of ITTT.
Useless methods
I discovered fairly quickly that a knife and fork were not available and I lacked the appropriate language to request a set. Nervously I reached for the chopsticks and spent the better part of fifteen minutes attempting to produce a satisfactory grip on the unfamiliar eating utensils. Needless to say, my lack of skill with chopsticks was clumsily apparent and quickly became the focus of the evening's entertainment. Once the laughter had subsided, it was clear I needed some help or I would go to bed hungry that night. Taking confidence from the lighter atmosphere created by the laughter and keenness from the chopstick experts around the table, I dove into the task of acquiring a new skill that would surely open up an entirely new world to me.
Also Read: Where are the best places to teach English abroad?
Example from my experience
I would have liked this experience to have ended with me being somewhat fluent in Mandarin or by some miracle of my teaching ability was able to educate the dinner party in English, but this was not the case. What I did walk away with was confidence from the progress I had made through learning a new skill and the connections with the people that this process forwarded me. At the end of the night, I was sent on my way with a complimentary set of chopsticks and far too much takeaway food for one person. I can only assume as a form of homework from my new teachers and friends to continue building confidence in my new ability. The progress I was sure would be monitored when we next met again.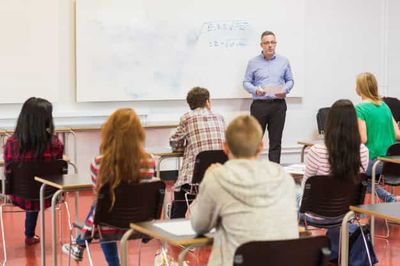 Also Read: Job interview tips for teaching English abroad?
Skills to enable students' confidence
This story helps to illustrate that confidence can be built up in a student through learning new skills. These skills should enable a student to interact within day to day life on a new and purposeful level. However, a student will also require a certain level of confidence to maintain the process of English language acquisition. It is most important that a student is in a learning environment where success can be experienced to build and maintain confidence. I can relate to students who are in a position to learn new skills, whether intentionally or motivated to do so from some external source but both types of students will require confidence to learn effectively. In short, confidence is a consequence of being able to do something successfully.
It is important than as a teacher of English to create an environment for the student, where success is achievable and desirable to maintain a confident student. As in my experience from the intro, the scene was a little intimidating at first, my confidence not at an all-time high but the environment created by the people (teachers) there encouraged me to overcome something challenging and I walked away with a great experience and a confidence level that would sustain me through the process of becoming competent in the task.
Also Read: Do I need a visa to teach English abroad?
Methods to build confidence
The beginning of the process of building confidence in students starts with the teacher. The teacher carries the responsibility of enhancing the best possible characteristics in oneself, such as being warm and welcoming, passionate with a genuine interest in the student's success. The level of dedication to one's growth as a teacher is reflected in the ability to inspire and motivate growth in the students.
Having a good rapport with students creates a space where trust can develop and opportunities to approach various challenges with confidence. This can be achieved through a teacher being consistent and fair with all students and situations. The teacher then carries an enormous amount of influence and can build confidence in the students through positive and professional interactions. The privilege and reward of teaching are enabling that confidence to grow. The teacher plays many pivotal roles in setting up the classroom dynamics that best suits the needs of the students. The ability to use various approaches to reach individuals and groups alike is critical in setting the students up for success. The teacher can decide on the best possible course materials and present them in a way that is professional, interesting, relevant and clear. The use of elicitation can be a great tool to boost confidence in the classroom and importantly follow up participation with affirmation and encouragement. Ensuring that vocabulary, grammar and forms have been previously taught before requiring students to produce certain language will increase student talk time and confidence to offer answers. The teacher can set up the appropriate tests and activities that foster growth opportunities for the student's English ability. Students that can consistently overcome challenges in language acquisition develop confidence, which aids in the effective understanding and the correct use of English.
Do you want to teach English abroad? Take a TEFL course!
In conclusion, success can develop confidence in the classroom and many EFL techniques can be used to ensure that students are offered the best possible classroom environment to succeed. The various skills in English, such as reading, listening, writing and speaking offer many opportunities for developing confidence in the language. Being proficient in all of them is certainly a source of confidence and a challenging goal that can be achieved.
Apply now & get certified to teach english abroad!
Speak with an ITTT advisor today to put together your personal plan for teaching English abroad.
Send us an email or call us toll-free at 1-800-490-0531 to speak with an ITTT advisor today.
Related Articles:
---
---