5 Fantastic Ways to Motivate Students When Teaching Online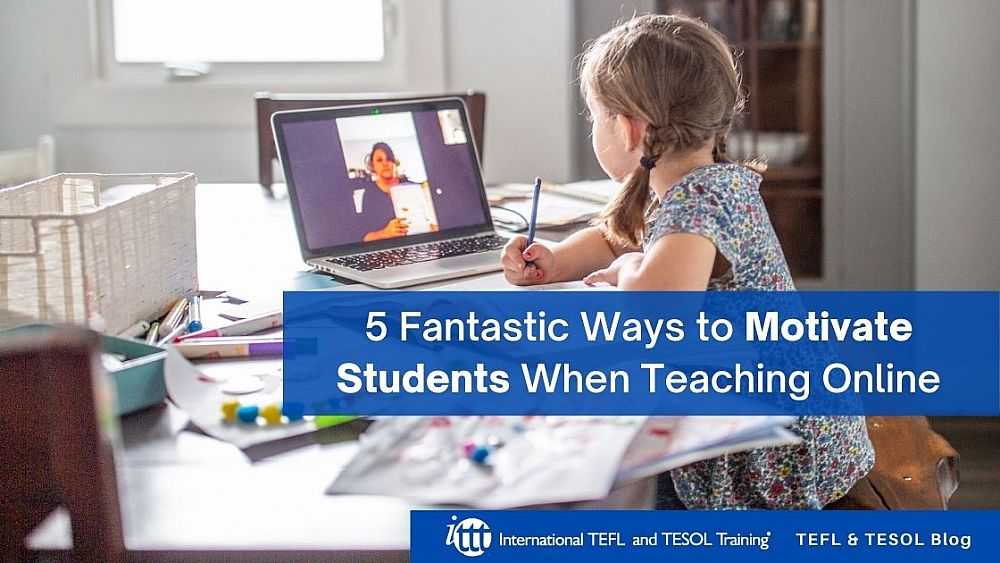 5 fantastic ways to motivate students when teaching online
One of the keys to success in learning a language is motivation. We have come to believe that students need to come to class motivated. However, we as teachers play a huge role in motivating students.
Online teaching might be a little bit daunting when it comes to motivating students. We have no real contact with them, and building rapport could be harder than in a classroom. Yet, there's nothing a dedicated teacher cannot achieve!
In this post, I will share five fantastic ways to motivate students that I have used in my years as an online teacher. Come and discover them with me!
Show your students that you care.
One of the best ways to keep your students interested is to be interested in the first place. Some students see their English class as an escape from their daily routine. In many cases, students will want to share a bit about their lives in the class.
Don't be mistaken; this participation will not come alone. You need to create an environment where the students feel safe to talk without giving it much thought. The best way to create this safe environment is to show that you care about what they say.
I always try to begin my class with a short round of personal questions to my students.
"How's work?"
"Are you enjoying the sunny weather?"
And other similar questions. Students will open up slowly but surely, and as the class progresses, they will be more willing to share thoughts and experiences with you.
As a plus to those generic questions, you can go the extra mile and remember the little details your students talk about. They might say something about an upcoming trip, interview, or job project.
If you remember those things and ask students about them, they will feel even more included and considered by you. Without even noticing it, your students will be more engaged in the class because they will feel part of a friendly and considerate group.
Be careful, however, with sensitive topics, and be sure to not overstep any cultural or social boundaries with your questions. Keep it crisp and fresh as if talking to a neighbor.Show students that you care, and their motivation will skyrocket!
Use music
Who doesn't love music? Music is one of the best tools you can use to help your students be motivated and also learn while having fun. You would be surprised about how many students list "understanding the lyrics of the songs I like" among their reasons to learn English.
Using music at the beginning of the class can help break the ice and begin the class with a more relaxed tone. If you made this a routine, your students would come to class looking forward to the song you are going to play that day.If you can select a song with the vocabulary or the structure you will be teaching in the class, you can start engaging students with the content from the very beginning.
Students will appreciate the structure of the class and also the song recommendations you will have for them.
Adding music to the class will make it funnier and easier to digest. Use music to teach, engage, relax, and motivate!
Use as many crosswords, puzzles, and games as you can
Students can be like little kids at times. You can see flashing eyes through the screen when you say, "the first one to finish wins!" Bringing their competitive side is one of the oldest and most effective ways to motivate students.
You can keep students alert and ready for games and competitions in the class. That way, you will create an interesting class environment where they will always have fun and stay motivated.
There are many free crossword builders online that you can use to create activities following the topic of the class. A crossword about irregular verbs? Places in the city? Food vocab? You name it. Just create it and have fun watching your students compete!
Students love playing while learning, so using these resources will always help them stay motivated!
Talk about current events.
One of the things that have helped me the most is learning about what is going on in my students' countries. Especially in times like these, new regulations, confinement announcements, and vaccination information are given on a daily basis.
Being up to date with the current events that affect the life of your students is another way to show you care and motivate them. In some cases, students will want to unwind by talking about some recent announcement.
It happened to me recently. While talking about travel regulations in Europe, one of my students started talking about some flight cancellations she had suffered, and she went on for a couple of minutes while the other students listened to her and asked questions.
Want to know something interesting? This exchange occurred spontaneously and completely in English! Not only is talking about current events motivating, but it is also helpful for spontaneity in the speech of the students!
It would be rare the students didn't have an opinion or experiences to talk about when you talk about current events. Help them participate and motivate them with these captivating topics!
Keep it simple and fun.
This last tip is basically a summary of everything you have read before. You need to keep the class simple and fun so that the students don't feel overwhelmed or threatened in any way.The ultimate goal is that the students can have a good time while learning from home without going through much fuss. Once you have built enough rapport and created a safe environment, your class will run smoothly with your highly motivated students.
Don't confuse simple with easy or not challenging! You need to challenge your students to keep them motivated, but don't overcomplicate anything unnecessarily. For some students, having to use technology will be difficult enough.
Not too long ago, this happened to me with a student. She didn't know her way around her computer and zoom, and the classes were being hard on her (not to say hard on me.) She even told me she was thinking about dropping out.
After a couple of hard classes, I realized that I needed to simplify everything for her. The result? Now she drinks a cup of wine and laughs her heart out many times during the class! Keep it simple, and your students will be grateful and motivated!
Wrapping up
Having motivated students will help you better navigate your classes and avoid any anxiety online teaching could cause. Use these tips to significantly improve your class and see how effective they can be for you.
The ultimate advice would be to have fun while you teach. If you are having fun and enjoying yourself while teaching, it is very likely that your students will feel the same way. The better the environment, the more motivated your students will be.
Are you ready to teach English abroad or online?
Apply now & get certified to teach english abroad!
Speak with an ITTT advisor today to put together your personal plan for teaching English abroad!
Send us an email or call us toll-free at 1-800-490-0531 to speak with an ITTT advisor today.
Related Articles:
Check out what our course grads say in our many video testimonials!
---
---