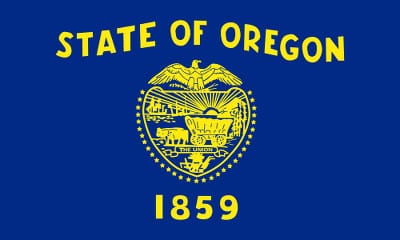 If you are looking for a destination with exceptional landscapes and lush nature, Oregon is your best bet. One of only three states on the Pacific Coast in the continental USA, Oregon combines splendid beaches with green forests and tall mountain ranges. Even the Native Americans, who settled in the area before the Europeans arrived, appreciated the natural wonders of the region and lived in peace with nature. On top of that, Oregon is the ninth largest state in the USA, offering plenty of opportunities for outdoor fun during the whole year.
Oregon's coastline of 363 miles is one of the reasons the state sees millions of visitors each year. However, the Oregon beach experience varies from the one further down south in California, for instance. In Oregon, people do not come to the beach to tan or sunbathe, they come for the adventure. Oregon's coast sees some of the tallest waves in the US, luring in surfers from all across the world. But if you'd rather want to relax, simply find peace in a tide pool. Many also like to follow the coastal trails passing by charming towns, picturesque bays and tall lighthouses. Marine enthusiasts also come to Oregon to see the marine wildlife as it is here, where whales, such as gray whales, are frequently spotted. On an exciting whale watching cruise, visitors can also get up close with these giants. The Painted Hills are another major tourist attraction in Oregon as they were formed over millions of years by wind and weather. Today, these claystones change their colors depending on the weather and sun.
Not only does Oregon have splendid and action-packed beaches, but the mountains are also worth visiting Mt. Hood is Oregon's tallest mountain and can be seen from miles away almost wherever you are. Its peak, made of up 11 glaciers, is covered in snow year-round. You can even engage in skiing and snowboarding the entire year at the 6 different ski resorts on Mt. Hood. The mountain also offers a selection of cozy lodges, where you can spend a relaxing getaway enjoying the spectacular view of the mountains and the snowy peak in front of the fireplace. Come back to Mt. Hood in the spring, and you will find meadows covered in wildflowers and lavender as far as the eye can reach. Come back again in summer and fall and you can taste some of the tastiest wild apples, pears and berries.
There are also some exciting cities to visit in Oregon. The most popular city in the state is Portland, due to its thrilling culinary varieties. Locals and visitors alike love trying out the many restaurants, bars and coffee shops Portland has to offer, as there is always something new to explore. However, Portland is also famous for its entertainment choices, such as state-of-the-art galleries, museums, exhibitions, arcades, and live music venues. One of Portland's most proudest attractions is Forest Park, one of the largest urban recreation parks in the country. Here, you get to explore over 40 miles of premier trails in the middle of the city.
Adding to that Oregon's high-quality educational facilities, such as Portland State University, Oregon State University and the University of Oregon, you will not regret coming here to take your TEFL/TESOL course. In fact, your experience in Oregon will open doors to limitless opportunities in the worldwide field of teaching.
TEFL Course in Portland Oregon
Register now & get certified to teach english abroad!
Want to listen to this page? Click on the video below!