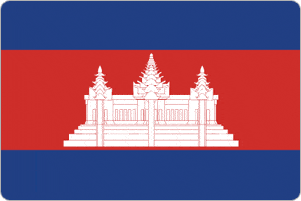 Capital city
Phnom Penh
Language
Khmer
Currency
Riel (US Dollar accepted)
Typical TEFL teacher salary
US $ 8 per hour
Major TEFL locations
Phnom Penh
The Country
Wherever you wish to work in the world, completion of one of our courses will give you access to job search assistance, be it for Cambodia or any other country
Most salaried positions teaching English in Cambodia are in the major cities, particularly Phnom Penh. Outside of these there is a lot of voluntary work available in the smaller cities and towns.
Knowledge of English for Cambodian nationals is becoming a necessity for obtaining a good job. A TEFL certificate is also becoming more necessary for foreigner teachers to attain desirable English teaching positions. The pay is not very high, but the cost of living is low.
It is quite difficult to get work teaching English in Cambodia unless you go there, although positions do sometimes appear on job websites. Although it might be possible to contact a few schools by email to let them know you will be coming, the best thing to do is go and drop your resume off at different schools and meet the teachers and administrators there.
If you are already in the country then motorbike taxis are very inexpensive, and the quickest way to get around town. The drivers may also have some inside knowledge on the schools in the area. Make sure that you have a phone number so they can reach you.
Sample Job offer for Teaching English in Cambodia