Let's take a look at the different types of Articles in English! Learn article definitions and how to use definite and indefinite articles in sentences with the ESL infographic below.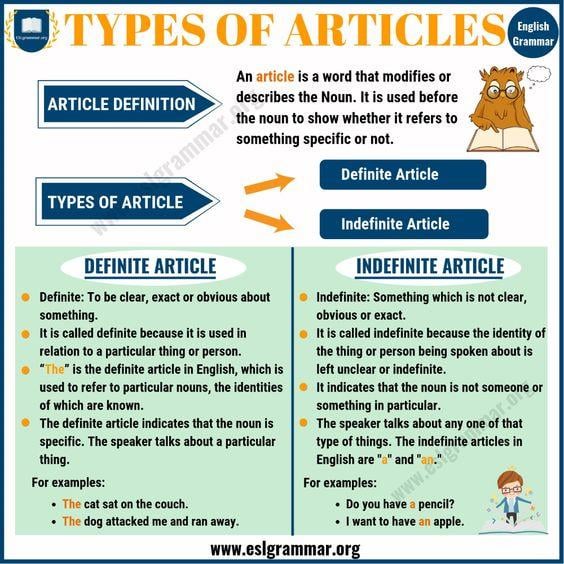 Article Definition
An article is defined as a word that modifies or describes a noun. Adjectives are used before the noun to show whether it refers to something specific or not. So, in a way, articles can also be described as a type of adjective as they also tell us something about the noun, just like adjectives.
There are two types of articles in the English language, they are indefinite articles (a, an) and definite article (the).
Definite Article
Definite means to be clear, exact or obvious about something. It is called definite because it is used in relation to a particular thing or person. "The" is the definite article in English. The definite article indicates that the noun is specific.
For example:
The dog sat on the couch.
The cat attacked me and ran away.
In both examples above, it is clear that a particular dog sat on the couch in the first sentence and a specific cat attacked the speaker is being talked about in the second example.
Indefinite Articles
Indefinite means something is not clear. These types of articles are called indefinite because the identity of the thing or person being spoken about is left unclear or indefinite. The indefinite articles in English are "a" and "an."
As a general rule, we use "a" for nouns that start with a consonant sound and "an" for nouns that start with a vowel sound.
For example:
Do you have a pen?
I want to eat an apple.
Are you interested in teaching English as a foreign language?
​Get your TEFL certification with ITTT.
Register now & get certified to teach english abroad!
ENDBODY