Do you want to sound more interesting? Use this list of descriptive words and step up your spoken language! This list has been chosen especially for ESL learners.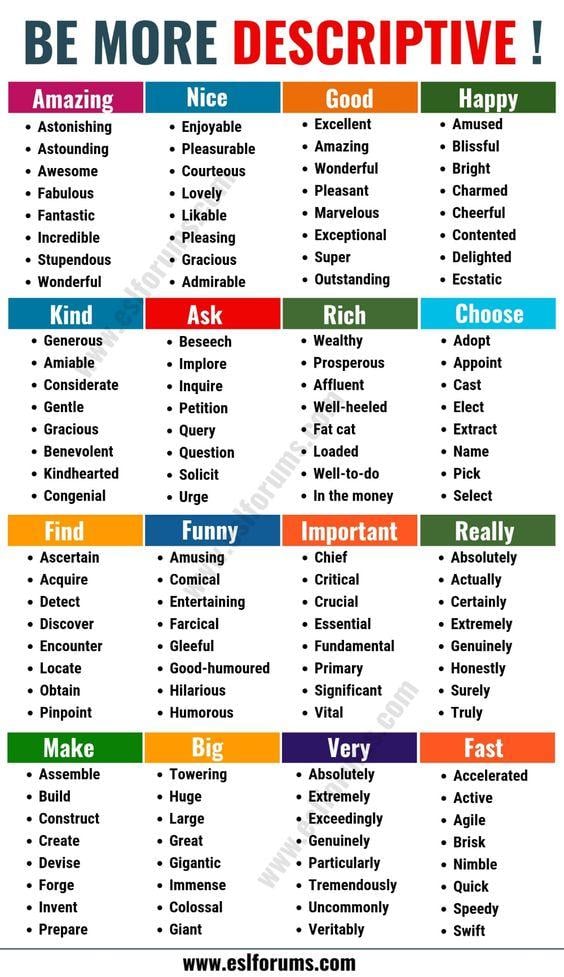 DESCRIPTIVE WORDS
Learn synonyms of different words in English
NICE
Enjoyable
Pleasurable
Courteous
Lovely
Likable
Pleasing
Gracious
Congenial
Cordial
Admirable
Considerate
Amiable
Charming
Kind
Neat
Delightful
Pleasant
AMAZING
Astonishing
Astounding
Awesome
Fabulous
Fantastic
Incredible
Stupendous
Unbelievable
Wonderful
Unimaginable
Tremendous
Unexpected
Phenomenal
Spectacular
Stunning
Overwhelming
Remarkable
Breathtaking
Significant
Staggering
Brilliant
Extraordinary
Marvelous
Prodigious
GOOD
Excellent
Amazing
Wonderful
Pleasant
Marvelous
Exceptional
Fantastic
Super
Outstanding
Terrific
Splendid
Stupendous
HAPPY
Amused
Blissful
Bright
Charmed
Cheerful
Contented
Delighted
Eager
Ecstatic
Elated
Enthusiastic
Excited
Glad
Gleeful
Hopeful
Joyful
Lively
Loving
Marvelous
Merry
Optimistic
Over the moon (informal)
Overjoyed
Pleased
Positive
Satisfied
Thrilled
DELICIOUS
Appetizing
Tasty
Flavourful
Delectable
Scrumptious
Mouth-watering
Delish ( informal)
Yummy (informal)
Juicy
Luscious
KIND
Sympathetic
Good/large/warm – hearted
Generous
Amiable
Considerate
Gentle
Benign (formal)
Gracious
Benevolent
Kindhearted
Congenial
Compassionate
Caring
Friendly
Thoughtful
Nice
Good-natured
Attentive
Avuncular
BAD
Awful
Terrible
Crummy
Wack (slang)
Crappy/ Shitty(slang)
Rotten
Naughty
Dreadful
Nasty
Wicked
Lousy
Unpleasant
Disagreeable
Wretched
Horrible
Outrageous
Despicable
Disgraceful
SMALL
Tiny
Petite
Mini
Teeny-weeny
Pygmy (with animals)
Little
Slight
Minute
Skimpy
Miniature
Wee
Diminutive
LOVE
Admire
Adore
Appreciate
Cherish
Enjoy
Fancy
Dote on
Honour
Respect
Savor
Like
Are you interested in teaching English as a foreign language?
​Get your TEFL certification with ITTT.
Register now & get certified to teach english abroad!
ENDBODY