Verbs are one of the most important parts of speech in English and incredibly important for learners of English. The below infographic showcases all types of verbs in the English language.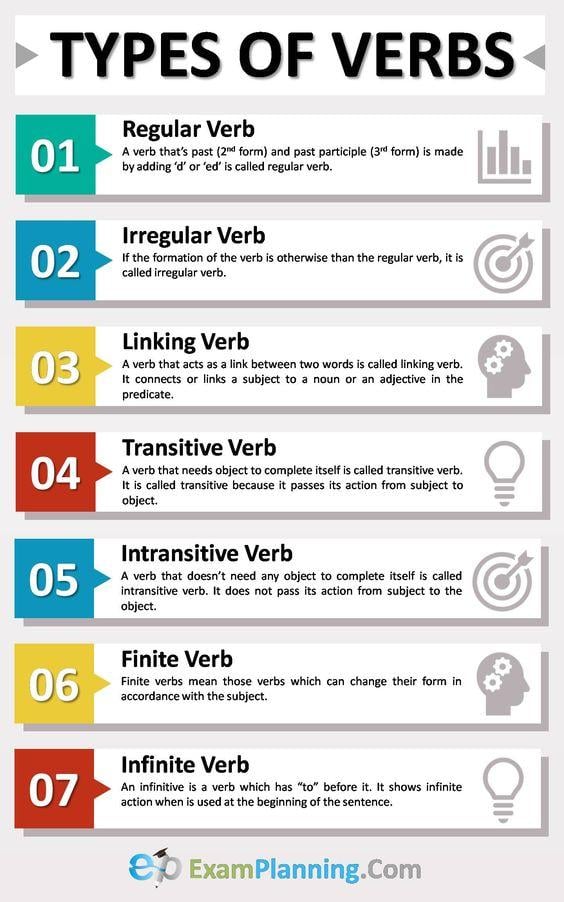 What is a verb?
Generally speaking, a verb is a word that shows an action, state or an event. It is an essential part of a sentence and is known as the soul of language. For example:
"They study English grammar." (Action)
"We celebrate independence day." (Event)
"I sleep at night." (State)
Following are the different types of verbs:
Regular Verb
Irregular Verb
Linking Verb
Transitive Verb
Intransitive Verb
Finite Verb
Infinitive Verb
REGULAR VERB
When a verb's past tense (2nd form) and past participle (3rd form) is created by adding 'd' or 'ed', it is called a regular verb. Some examples of a regular verb include:
| | | |
| --- | --- | --- |
| Walk | Walked | Walked |
| Talk | Talked | Talked |
| Clean | Cleaned | Cleaned |
| Choke | Choked | Choked |
| Grate | Grated | Grated |
IRREGULAR VERB
If a verb's past tense is not formed using -ed, it is considered an irregular verb. Here are some examples:
| | | |
| --- | --- | --- |
| Present | Past | Past Participle |
| Shut | Shut | Shut |
| Drink | Drank | Drunk |
| Break | Broke | Broken |
| Beat | Beat | Beaten |
| Become | Became | Become |
| Bid | Bid | Bid |
| Drive | Drove | Driven |
| Has/Have | Had | Had |
| Know | Knew | Known |
| Rise | Rose | Risen |
LINKING VERB
A verb that acts as a link between two words is called linking verb. It connects or links a subject to a noun or an adjective. Common linking verbs are:
| | | |
| --- | --- | --- |
| Appear | Become | Feel |
| Look | Taste | Turn |
| Sound | Seem | Grow |
She remained silent.
The bags are full of dust.
The room is very small.
TRANSITIVE VERB
A transitive verb refers to a verb that needs an object to complete itself. Usually no preposition is used after a transitive verb. A transitive verb passes its action from subject to object, for example:
The player kicks the football.
She loves her mother.
INTRANSITIVE VERB
In contrast, a verb that doesn't need any object to complete itself is called intransitive verb. Usually prepositions are used after an intransitive verb. An intransitive verb does not pass an action on from the subject to the object, for instance:
The boys sleep.
She died in an accident.
FINITE VERB
A verb that can change its form in accordance to the subject is called a finite verb. It also defines the time (past or present) and the subject and tells you who is doing the action and when it is being done.
I eat rice. / He eats rice. / They eat rice.
I am a student. / He is a student. / They are students.
INFINITIVE VERB
An infinitive is a verb which has "to" before it. It shows an infinite action when used at the beginning of a sentence, for example:
To see is to believe.
To be weak is miserable.
Are you interested in teaching English as a foreign language?
​Get your TESOL certification with ITTT.
Register now & get certified to teach english abroad!
ENDBODY