Here are 9 fun ways to greet your students in the classroom that are social distancing approved and safe - plus, they are super fun and your students will love them.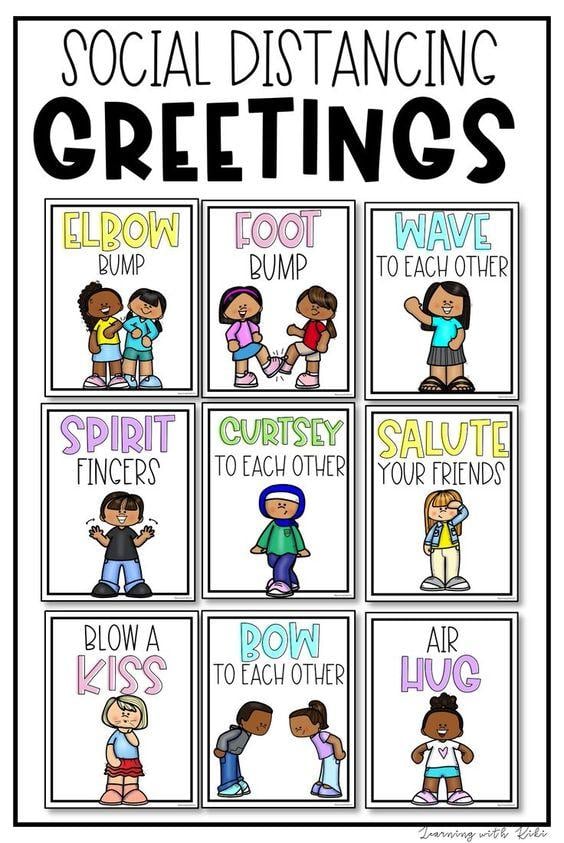 Elbow Bumb
This greeting has already become a classic and kids of all ages love it. Simply bumb your students' elbow as you say "hello" in the morning!
Foot Bumb
Similar to the first option, the foot bumb is even better if you want to avoid any sort of touch of the hands and arms.
Wave to each other
Simple but effective. You can do this as a whole class or wave at each student individually as they enter the classroom in the morning.
Spirit Fingers
Similar to "jazz hands," spirit fingers area a dance movement of the fingers with palms out and fingers moving quickly back and forth. Look it up on Youtube for a fun demonstration!
Curtsey to each other
This could be a fun way to teach your students about historic times when this was a common greeting among royals at castles, for example.
Salute your friends
Use this form of greeting when talking abou the miliary or on special holidays like Memorial Day or Veteran's Day.
Blow a Kiss
Why not blow your students a kiss? This works especially well for young students.
Bow to each other
This could be a great way of introducing a lesson on different cultures to your students as it is a common greeting in many different countries around the world, particularly in Asia.
Air Hug
Last but not least, the air hug might bring a smile on your students' faces as they probably haven't hugged their friends in quite a while!
Are you interested in teaching English as a foreign language?
​Get your TESOL certification with ITTT.
Register now & get certified to teach english abroad!
ENDBODY