Puppets as a Teaching Tool in the ESL Classroom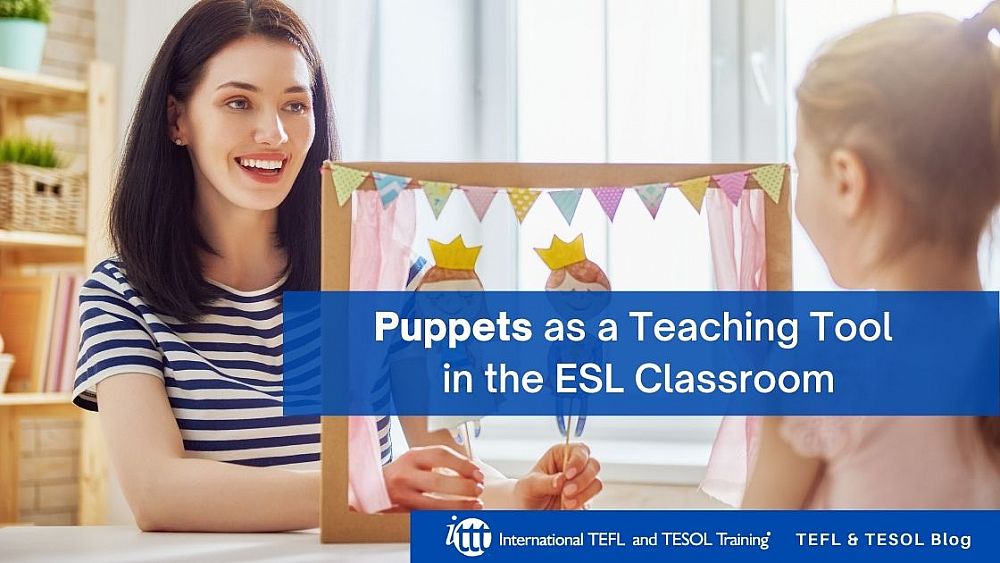 Puppets can serve as a wonderful pedagogical tool in the ESL classroom. Young children are very familiar with them since puppets play a large role in the world of children's imaginative play, and they have become widely accepted as a pedagogical tool because they are valuable in serving as an anchor in overcoming the language barrier.
Their potential in ESL teaching could be used to enhance instruction and provide many useful benefits. Research clearly shows the benefits of using puppetry in English language teaching, and the use of puppets is an effective approach in teaching English to young learners. From the perspective of a preschool teacher, research results are very accurate when it comes to teaching the younger student population, and puppets are extremely effective in generating interest, enthusiasm, and participation in learning activities.
Research Proven Teaching Benefits
Research finds major benefits of using puppets with young students:
Puppets encourage students to engage in learning activities, having a positive impact on student participation in the classroom. Children are accustomed to visual cues to enhance their learning, and language teaching needs to be animated to promote interest and motivation.
Using puppets can also create a positive atmosphere in the classroom. Such an atmosphere leads to energy and motivation in the learning process, both for the teacher and the student.
According to research findings of the "I Teach Better with the Puppet" project, 78% of teachers responded that puppets helped them "very much" in improving their teaching effectiveness, and only 17% claimed that puppets helped in certain subjects, while 5% stated that puppets helped in small areas of subject teaching.
Puppets and Oral Language Skills
Students Less Anxious
Puppets can serve as a medium for the students to become comfortable expressing themselves verbally. English language learners are less hesitant to participate in oral classroom activities by communicating through puppets.
Enhanced Listening Skills
Students have the ability to internalize language patterns and explore components of the English language while watching the teacher use puppets or using the puppets themselves.
Growth of Self-Confidence
Puppets can help students to become more comfortable exploring language and expressing themselves verbally. Language learners have the opportunity to discover English language rhythm, rhyme, and plot patterns through watching and playing with puppets.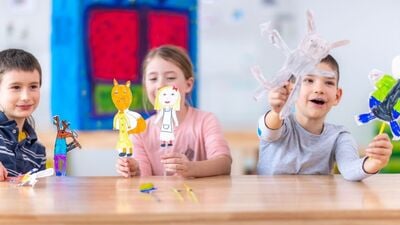 8 Ways to Incorporate Puppets into Language Teaching
Songs and Chants
Teachers can use finger puppets as props for songs or chants. Young students would be able to learn numbers and practice their vocabulary (frog, green, log, splash) while watching "Five Green Speckled Frogs" puppets. If teachers are in a traditional classroom setting, students can wear green frog masks and be the frogs themselves. "Five Little Monkeys Jumping on a Bed"/"Five Little Monkeys Swinging in a Tree"Super Simple Songs found on Youtube could be a great ESL resource because they are examples of traditional Anglo-Saxon songs and nursery rhymes, and they've been adapted to be easily understood and memorized by language learners. Puppets and props accompanying the songs would certainly make language learning exciting.
Descriptions
Teachers can use animal/human puppets for physical description activities. Students can consequently learn descriptive vocabulary in an engaging, attention-grabbing way.
RolePlay
Teachers can also incorporate puppets in role-playing dialogues, warm-up activities, stories. Young English learners enjoy learning about community helpers, and puppets can be made and attached to popsicle sticks to introduce students to realistic scenarios such as getting lost/asking a police officer for help, or seeing smoke/calling the fire department.
Games
Games like "Where is it?", "Hide and Seek" or "Puppet says" could be used to incorporate TPR and practice vocabulary with the children.
Conversational Dialogues
Students can listen to puppets having conversational dialogues like "Can you, please point the way to Mulberry Street?" and be exposed to proper grammar, pronunciation, and enunciation. Routines are very important for young students, and puppets can welcome the ESL learners with "Hello!", "Good-Bye," or ask them "How are you?", "What is your name?" or "What is your favorite dessert?".
Grammar Review
Grammar rules can be practiced in a lighthearted and memorable way, and challenging grammar points can be explained by the puppet or to the puppet. Teachers can teach verb tenses or pronouns through puppets by using he/she, asking "Whose is it?", modeling proper verb tenses, or possessives, etc.
Teaching Assistant
Puppets could help introduce ESL students to more English in use, and they would be able to provide visual support for new vocabulary words or grammar points. The usage of puppets would also create opportunities for language repetition. Shy students can speak to the puppet 1-on-1 and have an easier time practicing their language skills.
Classroom Management
If any of the students become upset, angry, or distracted, teachers can use the puppets to ease the tension. Puppets can be used with rambunctious students to mirror their behavior and regain control of the class/lesson. They can also be used to model how to behave; when it is time to focus, the teacher can "ask" the puppet: "Are you listening?" and have the puppet respond: "Yes, I am!".
Are you ready to teach English as a foreign language?
It is evident that puppets can be a wonderful medium to assist language learners in overcoming their anxiety and the fear of making mistakes while speaking English. Using puppets n ESL teaching can also be a great motivator to provide adequate elements of fun and engagement in the instruction process. Puppets can be used in a variety of ways, from making songs and chants more appealing to enhancing conversation dialogues and reviewing grammar points, and finally, as a reliable and unintimidating classroom assistant.
Apply now & get certified to teach english abroad!
Speak with an ITTT advisor today to put together your personal plan for teaching English abroad!
Send us an email or call us toll-free at 1-800-490-0531 to speak with an ITTT advisor today.
Related Articles:
Check out what our course grads say in our many video testimonials!
---
---