How to Optimize Your CV for a Virtual English Teacher Career in 2023
To become a successful virtual English teacher after completing your TEFL course of choice is a matter of presenting your skillset as viable for teaching online.
People whose native language ranges from Spanish and Portuguese to Chinese and Russian have decided to devote their social distancing time to learning English. It created a need for virtual teachers and, most importantly, virtual English teachers willing to pass their knowledge to others worldwide. Let's take a look at how you can optimize your CV to make it more appealing for a career in teaching English.
Outline your Qualifications, Competencies and Prior Experiences Properly
The crucial element of your CV is your list of professional qualifications and competencies. As such, you should succinctly list your certifications and diplomas, which will make you viable for virtual teaching. It's very beneficial to have TEFL certification or TESOL training, given that these are internationally accepted certificates which anyone will recognize at a glance.
Your past experiences as a teacher also matter, as more experienced teachers have a better chance of landing work compared to their younger counterparts. Any volunteering work, seminars, or NGO projects you've participated in should also find their way into this section of the CV. These will make you more personable and approachable, giving students a good idea of who you are beyond your teaching skills.
Do Background Research on the Platform you might Teach On
Depending on how and where you want to teach as a virtual English teacher, you might want to do some research before you start. How credible and trustworthy is the platform you chose to apply with as a teacher? TEFL job opportunities are available around the globe, so there are multiple choices. Look for online reviews on the platform you might apply for as a teacher and reach out to support to check how "real" they are.
Also, you should check out their company history, experiences of past English teachers, and how satisfied the students are with their services. Students in US universities from abroad might also be using such platforms to spruce up their English – look for their comments and stories online. Remember – the platform with which you collaborate as a virtual teacher will dictate how you are perceived as a professional – check everything twice before applying.
Formatting your CV Properly will make it Stand Out
Once you've assembled a rough draft of your skills and experiences, you should make them as legible as possible. There are plenty of CV building tools and templates online that make the process easier. Alternatively, you can create your own unique CV if you possess design skills. Given the nature of virtual English teaching, your CV should favor a more technical approach to formatting and forgo any unnecessary visual elements or graphics.
Format your CV in a way that will showcase not only your writing skills but your frame of mind and professional etiquette as well. You can also reach out to a thesis writing site and their support team should you need assistance sprucing up your word count or legibility. How you present your CV will make it stand out even more than the factual data you've listed – take your time and do it properly.
Demonstrate That You're Up-To-Date on Current Trends
Because online learning has gained popularity in recent years, this is the perfect time to transition into a virtual teaching career. An easy way to improve your chances of securing a virtual teaching job in 2023 is to show employers that you keep up with the latest e-learning trends. And the global e-learning market is anticipated to climb to nearly $374.3 billion by 2026.
Some of the biggest trends related to virtual education this year are:
Game-based learning
Artificial intelligence
Hybrid learning
Educational apps
Cohort-based learning
If you have experience with any of the examples above, or other teaching trends, mention them in the experience section of your CV. Provide specific examples and explain how this experience has made you a better educator. Employers look for candidates who take initiative and make an effort to continuously add to their skill set.
Attach a Supplemental Cover/Motivational Letter about Yourself
Being personable is always a good selling point for virtual English teachers. Even though your employer or students may not necessarily require it, a motivational letter is always welcome. It shouldn't be long and go into too many details about your private life – simply talk about your passions, goals, hobbies, and similar personality traits.
Students love when their teachers are "simply human" just as they are, making it easier to break the proverbial ice and reach out to them. You can write your motivational letter not only to express who "you" are but also to show off your English writing skills and vocabulary. Both points are equally important when looking for a job as an English teacher, so take writing a motivational letter into consideration.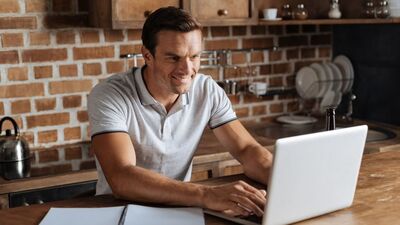 Use Keywords Related to Virtual English Teaching
When it comes to applying for online teaching jobs, you should follow SEO logic for formatting your CV. Keywords unique to TEFL and TESOL should find their way into your CV to make it easy at a glance to gauge your teaching viability. Using keywords and phrases related to "virtual English teaching" can have a positive effect on your CVs performance.
However, you shouldn't stuff your CV with keywords without rhyme or reason. The fewer words you use to describe yourself and your skillset, the better – leave the minutiae of explaining yourself for the interview or motivational letter. The latter should also include words related to English studies and English teaching, showcasing that you know what you are applying for.
Gather Testimonials, Reviews or Recommendations from Past Experiences
Word of mouth is golden when it comes to virtual teaching, especially since you will make video contact with students around the world. You can increase your CV appeal by reaching out to any past students, employers, or colleagues who can attest to your skills and experience.
Short reviews, testimonials, quotes, and other forms of social proof can significantly improve your odds of appealing to new students. It's important that any social proof you attach to your CV is truthful and credited to its original creators. Never come up with false claims or data about yourself since seeing through it will have dramatically negative effects on your reputation as a teacher.
List of the Technology you have Available for Virtual Teaching
Lastly, given that you want to apply for positions as a virtual English teacher, you should devote a small portion of your CV to technology. What kind of devices do you have at your disposal? Some tech you should consider investing in if you want to set up a proper teaching environment include:
Reliable laptop or desktop device (with OS of your choosing)
High-definition webcam
High-quality microphone and headphones
High-speed internet connection
Software such as MS Office for creating teaching materials
Noise-isolated working environment with a clear background
The list of technology and software apps that you rely on for teaching can find its way into the footer of your CV as a bonus. While not decisive by any means, this will reassure virtual English teaching platforms and students of your professionalism and devotion to your work.
The Advantages of Optimizing your CV as a Virtual English Teacher in 2023
What are the benefits of optimizing your CV beyond simply listing your skills and contact information and calling it a day? For better or worse, you are not the only person holding TEFL certification, and the virtual teaching market is competitive regardless of your teaching level.
You should do everything in your power to sharpen your CV to the point where HR managers and students alike won't second-guess your competencies whatsoever. If updating your resume becomes overwhelming, you can hire writer assistance through TutorMe academic site and engage their writing experts for high-quality editorial assistance. Doing so will yield you several important perks:
Learning more about yourself as an English teacher and professional
Significantly improved standing against other virtual English teachers
Constantly updating your CV with new competencies and experiences
Attract students and platforms of various backgrounds and requirements
Opportunity to pick and choose your next jobs freely
Summary
It's easy to overlook how important it is to optimize your CV once you write it. Treat your CV as an extension of yourself, a formal document that reflects who you are as an individual. While the final decisive factor of your worth will be your teaching itself, the CV you write will enable you to find gigs more quickly. Add new elements to your CV as you develop your virtual English teaching practice, and 2023 will be good for you.
Are you ready to teach English abroad or online?
Apply now & get certified to teach english abroad!
Speak with an ITTT advisor today to put together your personal plan for teaching English abroad!
Send us an email or call us toll-free at 1-800-490-0531 to speak with an ITTT advisor today.
Related Articles:
Check out what our course grads say in our many video testimonials!
---
---