ESL and 10 Common Preschool Themes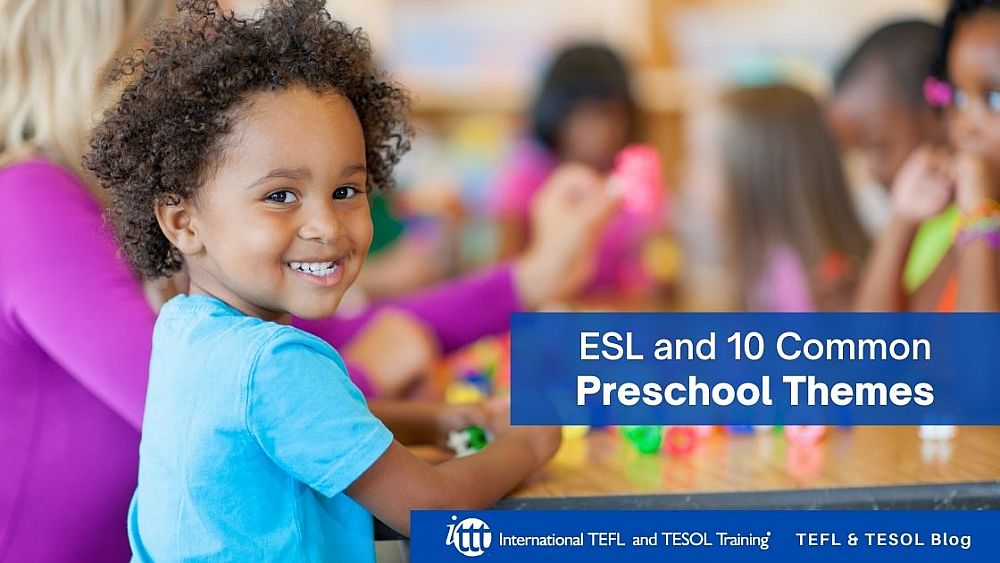 Preschool curriculum or lesson plan designed for English language learners should incorporate several basic and common themes. Those popular themes created for young learners will introduce students to new, interesting vocabulary words and phrases. Learning about animals, clothing, food, family, shapes, colors, numbers, or daily activities makes students deeply engaged in learning. They are discovering the world around them versus memorizing/repeating abstract words and phrases. Thanks to such theme-based lessons, English language students genuinely engage with the content being taught and make real-life connections while developing new vocabulary and enhanced language skills.
Animals
The animal theme is immensely popular with children, and English language learners enjoy learning about nature and the surrounding environment through the use of the animal theme. It is probably one of the most entertaining and popular themes that can be used by preschool teachers, and ESL teachers are no different.
In my years as a preschool teacher, I observed children naturally gravitating to picture books of animals or playing with stuffed animals and plastic animal figures. There are a plethora of ideas on the internet for lesson activities, crafts, games, and stories to be used with young English language learners.
Children can learn about farm animals and pets, or zoo/jungle animals, different types of animal habitats, nocturnal animals, animals who hibernate, or sea creatures. Popular classic songs such as "Old McDonald" or "Let's Go to the Zoo" can be taught, or children can imitate animal noises and have the teacher/other students guess by asking appropriate questions. Flashcards can be used for the Hint Animal Game, in which children receive three hints to guess the animal.
Blindfold guess with plastic animals can be lots of fun, too. The possibilities for learning vocabulary and grammar while studying animals are endless.
Clothing
Teaching a clothing-based theme can also be very motivating for preschool-aged students because of its practical life application and the natural inclination of children to play dress-up and be engaged in pretend play. Such a theme can be connected to learning about the weather and weather-related vocabulary.
There are fun activity and game ideas to inspire teachers planning to implement the clothing theme in their ESL lesson plan. Songs such as 'Put on Your Shoes' can be great to practice English skills.
Magnetic clothing set by Melissa and Doug can be used to teach clothing vocabulary. I remember how excited and entertained my students were to be learning prepositions with clothing items and a simple chair/box (in/on/under/next to, etc.). It is an incredibly motivating theme for young learners.
Food
Another highly engaging theme in any preschool curriculum is the food theme. It always captures the students' interest and is perfect for teaching descriptive vocabulary.
This is a very concrete theme that works great for pictures/flashcards/realia. ESL preschool students can be engaged in such fun games as Apple pass, where they have to say one fruit word as they pass the plastic apple. I remember how much my young students enjoyed all the blindfold games, and the food theme is perfect for that (plastic toy foods!).
Playing the Odd One Out game is also motivating for beginner ESL students when they have to choose the 'odd' food, not matching the other food items. Grammar points like "to be" and Present Perfect - 'have you ever eaten/tried…' - work wonderfully with this theme. It offers so many possibilities to engage the young students.
Family
Young ESL learners will really relate to this theme because it will allow them to use their real-world knowledge and experiences by talking about their families. It is also a perfect theme because family is valued across cultures. Incorporating this theme in your lesson plan will allow students to learn important vocabulary words and grammar points, as well as practice their English verbal skills while making conversations.
For instance, by using a Family Tree Diagram with pictures/stick figures (or pictures of the teacher's own family members!), students can learn family vocabulary, and based on that knowledge, they can be introduced to possessive adjectives ("What's your grandmother's name?"), or 'do'/'be' questions. Students really enjoy drawing and describing their family members, too. The Family theme is also ideal for making comparisons ("My brother is younger than me").
The "Finger Family" song using finger puppets for added interest would be perfect for the young learners. Those finger puppets could later be used by students for conversations.
Shapes, Colors & Numbers
When working with preschool students, it is important to realize that it is very natural for young learners to be learning about shapes, colors, and numbers. This is what our world is made up of, and it is the way children describe and categorize the world. Incorporating this theme will allow your ESL students to describe their surroundings.
Teachers have so many games and activities at their disposal to teach shape, colors, and numbers vocabulary. Shapes can be printed, laminated, and shown/passed around for students to learn the new vocabulary. The Missing Shapes game is always entertaining for the children, as they have to close their eyes and discover which shape is missing.
Songs based on the theme can be played, and the teacher can have students stand up when they hear their shape/color/number. The 'I Spy' game is very popular with young learners too and will allow the students to practice their English skills while engaged in play.
Other Common Preschool Themes
There are some other common themes used in ESL preschool curricula and lesson planning, and incorporating them into your teaching will have a positive and motivating effect on your students.
Greetings and Commands
Feelings
Daily Activities
Seasons and Weather
Transportation
Conclusion
Summing up this long elaboration, it is crucial to create a meaningful context for English language learners, and that is why it is necessary to provide instruction that draws on students' experiences.
Offering interesting and motivating themes like family, colors, or animals allows the teacher to connect learning to the language student's interests and real-life context. Integrating those themes into your preschool English teaching, along with motivating activities that are based on songs, movement, or art, will ensure greater motivation and enhanced language learning.
---
---