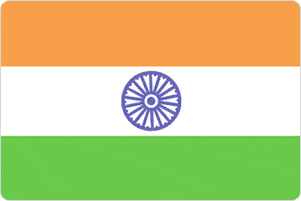 Capital city
New Delhi
Language
Hindi, Kannada
Currency
Rupee (INR)
Typical TEFL teacher salary
US$ 400/month
Major TEFL locations
Mumbai
Delhi
Bangalore
Chennai
Calcutta
Goa
The Country
If you're looking to teach while enjoying a real cultural experience, India is a wonderful choice. India is the world's largest democracy and there are quite literally millions of people learning English every day throughout the country. With our TEFL certificate in hand, as well as our lifetime assistance finding jobs, we'll assist you through the interview process and help you find a great job.
Competition is strong for paid positions, but they are still available — especially in the business field. A degree in the field of Education or Business, as well as a bit of teaching experience will go a long way with employers. Teachers in India are generally treated with utmost respect. In the Indian culture, knowledge is regarded highly, therefore enticing students to gain as much education as possible.
Language schools are plentiful in India, especially in the large cities scattered throughout the country. Many of these jobs require evening availability and offer part-time positions to start. Corporate training is also a good way to get your foot in the door in India. Teachers are hired as voice and accent trainers and companies nationwide hire soft-skill trainers to increase the awareness of appropriate interview skills, dress, general politeness and manners, etc.
Sample Job offer for Teaching English in India