Spanish cuisine is one of the most popular styles of food in the world; however, its many dishes are as varied and diverse as the different regions of Spain where they originate.
Paella from the Valencia area is well known across the world, but have you tried cocido madrileno a hearty chickpea based stew from Madrid or the marinated meat skewers known as pinchitos that are traditionally cooked over charcoal braziers in Andalusia and Extremadura?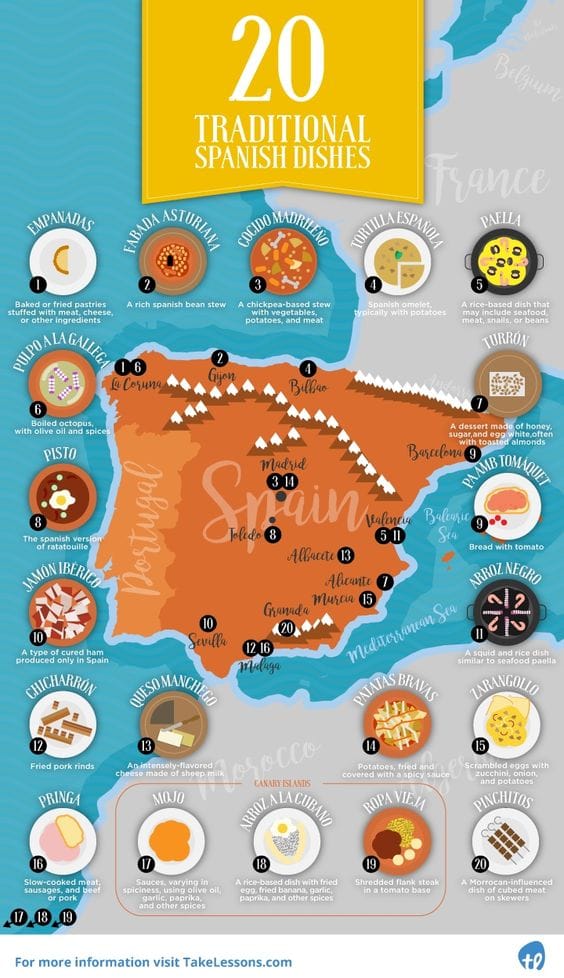 During your stay in the country you should try to explore this diversity to the maximum to ensure you experience the full delights of Spanish cuisine.
From the city of Gijon on the north coast to Malaga on the shores of the Mediterranean Sea in the south, the different regions of Spain have many culinary delights just waiting to be enjoyed.
SOURCE: takelessons . com/blog/traditional-Spanish-dishes-z03?utm_content=buffer9ace7&utm_medium=social&utm_source=pinterest . com&utm_campaign=buffer