Unlike its neighbor, Thailand, Cambodia does not have a particularly long history as a tourist destination or as a location for teaching English abroad.

However, that has started to change as huge improvements in infrastructure and a countrywide drive to raise the standard of English have seen a large increase in opportunities for teachers of all nationalities.

The fact that Cambodia doesn't have an overcrowded market for foreign teachers is certainly part of its appeal, as is the stunning natural beauty that ranges from rainforest covered mountains to white sand beaches.

The country's vibrant cities also offer all manner of entertainment to enjoy in your free time.


In recent years Cambodia has enjoyed a significant boom in its tourism industry that looks set to continue for many years to come.
This brief guide offers a few simple tips to get your travel plan started, including the best time of year to set off, local foods to try on arrival and some basic Khmer language that should help you to settle into your new surroundings.

The country's ever increasing popularity is due to a mix of great natural attractions, including lush jungles, tropical beaches and exotic flora and fauna, as well as a fascinating culture and friendly local people.
It also has some useful tips on the local culture so you can avoid any embarrassment while you find your feet.
SOURCE: foursquare . com/v/%E1%9E%97%E1%9E%93%E1%9E%96%E1%9E%89-phnom-penh/4e4506e61495455b10d445e9
---
If you are planning to join the growing number of EFL teachers who are heading to Cambodia to teach English abroad, you will probably be glad to hear that there are plenty of great islands and beaches to explore during your free time.
One of the big benefits of living and working in Cambodia is the low cost of living which ensures that transport, food and accommodation are all very affordable no matter where you choose to hang-out.

In fact, there are 52 islands around the country to choose from, as well as countless beaches.
Koh Tang is a great option for scuba divers, while Sihanoukville is the best destination if you want to try some island hopping.
SOURCE: beachmeter . com/beach-destinations/cambodia/
---
The city of Siem Reap in Cambodia is famous as the gateway to the spectacular Angkor Wat temple complex.
The floating villages on Tonle Sap Lake are well worth a visit.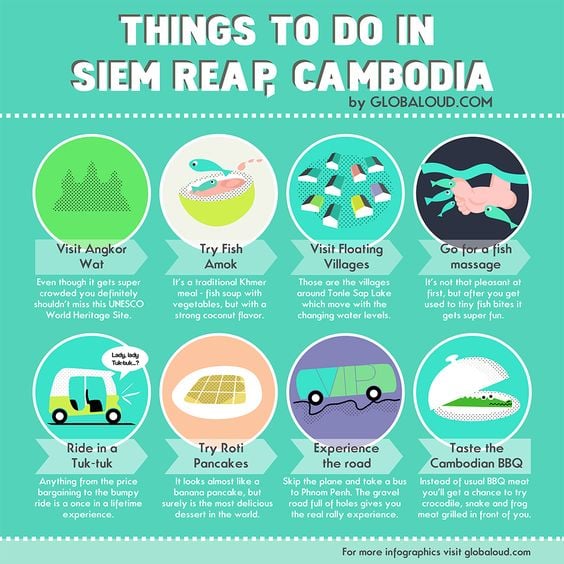 However, during your visit there are plenty of other great experiences to be had.
You will also find some unique cuisine to try, including the delicious roti pancake and the Cambodian BBQ which features delicacies such as crocodile, snake and frog.
SOURCE: www1 . globaloud . com/?kw=travel%20blogs
---