Although it is less well-known than some other popular destinations in the region, such as South Africa, Kenya and Tanzania, Botswana is actually one of the best places to experience the wonders of Africa's extraordinary wildlife and natural beauty.

Take a look at these guides for some ideas on the top places to visit, from the unique waterways of the Okavango Delta to the dusty plains of the Central Kalahari Game Reserve.

Our Safari packing guide is also a very useful checklist for anyone who is heading into the African bush for the very first time.


Although it is one of the most sparsely populated countries in the world, Botswana actually has one of the world's fastest-growing economies.
Wildlife safaris are a major attraction for most visitors and you will find several world-class game reserves to explore.
The large, swampy area of the Okavango Delta is another unique destination that you will not want to miss as it offers wildlife encounters in a stunning environment that is unlike anywhere else on Earth.

Thanks to its relatively high standard of living Botswana is a great destination for anyone looking to experience the natural splendor of the African continent.
The Central Kalahari Game Reserve is the second largest in the whole world; while the Chobe and Gemsbok National Parks are also well worth a visit.
SOURCE: foursquare . com/v/chobe-national-park/501a3737e4b08cad9093f3b6
---
If you plan to spend some time exploring Botswana's many world-class game reserves and national parks, you will truly be spoilt for choice.
This handy guide offers a range of advice on where to go, when to go there, and what you are likely to see once you get there.

Before you leave home on your African adventure you should obviously plan ahead to ensure you make the most of your time in the country.
On arrival you will be glad to find that English is widely spoken throughout the country, but if you are keen to make a good impression on the local people you could learn a few of these simple words and phrases in the local Tswana language.
SOURCE: mygoldenholidays . tumblr . com/
---
If you visit Botswana, or any other country in the region, it is highly likely that you will head into the bush to enjoy at least one wildlife safari experience.
To avoid overheating in the African sun it is wise to pack the right kind of clothing, and don't forget your sun hat.
Other essential items include camera, binoculars and the right electrical adaptor to suit your devices.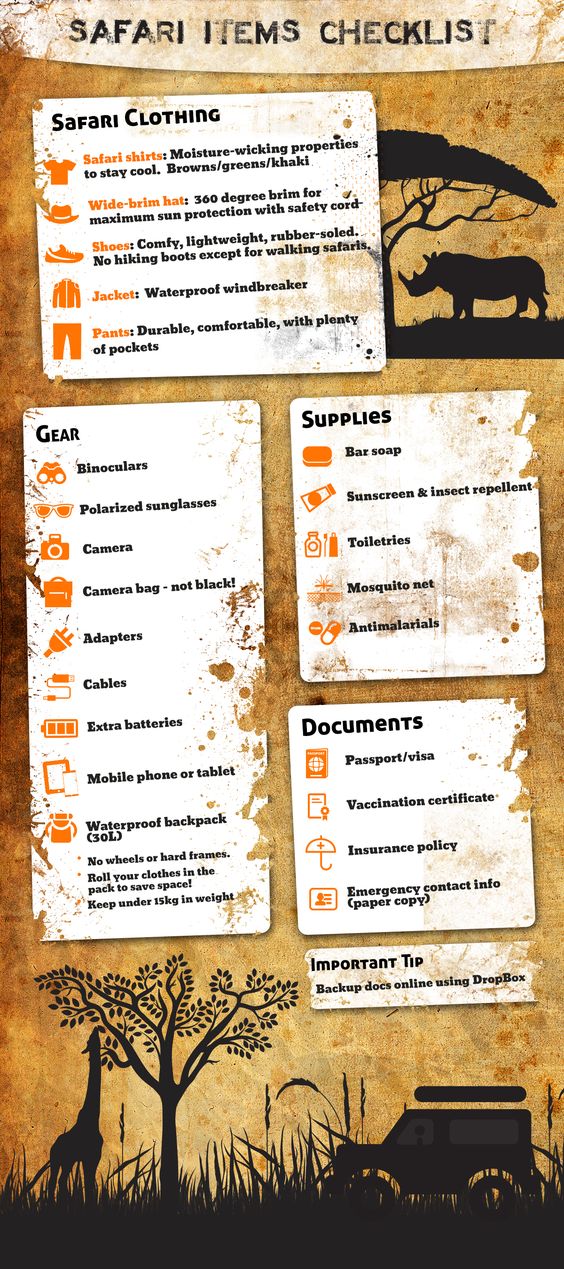 Before you leave on your safari adventure you might want to check this list of essential safari items to ensure you have everything you need to get the most out of your trip.
You should also check to see if anti-malarial medication is required and whether you need to bring along your own mosquito net.
SOURCE: www . takeoffsetsail . com/
---