As it is a landlocked country that is sandwiched between three much larger neighbors; Brazil, Bolivia and Argentina, Paraguay is often overlooked as a serious contender for teaching English in South America.

For anyone looking for a unique cultural experience away from the crowded teaching markets that can be found elsewhere in the region, Paraguay offers plenty of great opportunities for experienced and first-time teachers.

If you are unfamiliar with the country and would like to know a little more, take a look at these brief guides to Paraguay that cover a range of subjects.


Paraguay doesn't generally receive the same level of international exposure of some of its neighbors despite having a rich history and plenty to offer prospective teachers.
This list of facts should help you to learn a little more about this beautiful yet unsung country.
If you do visit Paraguay you will certainly want to spend some time in the capital Asunción, and you should also pay a visit to the UNESCO listed Jesuit ruins known as La Santisima Trinidad de Parana.

Paraguay is known as the 'heart of South America' due to its landlocked location between Argentina, Brazil and Bolivia.
You may be surprised to read that the president once owned a stolen car and that the Itaipu Dam produces almost all of the country's electricity.
SOURCE: 9gag . com/gag/aEBn1qo?ref=pn
---
How does Paraguay rate against other nations for years of education and life expectancy?
This infographic compares the average Paraguayan against the world averages for GDP (PPP) per capita, average age, years of education, life expectancy and the average number of siblings.
Of particular note for teachers is that Paraguay is on par with the world average of 8 years of schooling.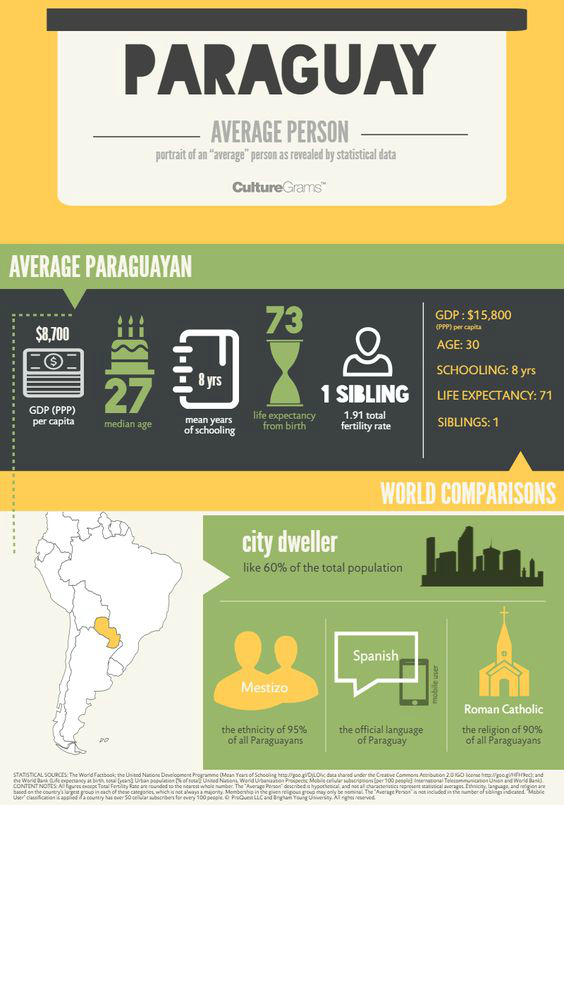 What type of lifestyle can you look forward to if you are planning to teach on a long-term basis in Paraguay?
The median Paraguayan is a youthful 27 years of age and they have a very healthy life expectancy of 73 years, 2 years above the world average.
SOURCE: online . culturegrams . com/world/world_popup_infographic . php?scountryname=Paraguay&Name=Paraguay
---