TEFL Jobs in Chile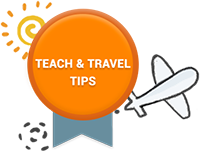 The demand for TEFL jobs in Chile has grown along with its economy. In particular, the demand for business English teachers is thriving and there is a growing demand for teachers to teach younger learners of English. Chile also has many private language centers, especially in Santiago, the capital. If you have a well-recognized TEFL certificate (such as the certificate offered by TEFL International), you shouldn't have difficulty finding an adequate job.
How to Find TEFL Jobs in Chile
Chilean schools post their TEFL Jobs frequently on major TEFL web sites. It's always a good idea to contact these schools six months before you plan to arrive in the country. Be sure you provide them with a professional, up-to-date resume that emphasizes your education, TEFL training, reliability and experience. However, you needn't limit yourself to schools advertising TEFL jobs.
You can also obtain contact information for schools and language centers from business directories like the white pages, language school directories, and English and Spanish language national newspapers. Be sure to keep records of who you contact and be sure to follow up with them a few weeks later. If a school doesn't have a teaching position available at that time, the situation can change quickly, so it's a good idea to stay in touch with the school.
When to Apply for a TEFL Job in Chile
The academic school year in Chile starts in March and it's best to try and apply for these jobs by October. Schools may take until the new year to contact you but at least you will have shown initiative for the gaining the position. And due to the inevitable scramble to fill all positions before the academic year starts, there is also a small push for jobs at the end of February.
When a school does contact you, they will want to conduct an interview—either face-to-face or via a phone call. Once a school makes an offer, it's best to give them your decision within two or three days as schools tend to want a firm reply fairly quickly. As well, once hired, the school is required to offer you a contract.
Good TEFL Jobs - Good TEFL Habits
Be sure to have answers to all questions regarding rates of pay, salary and other benefits. Find out if you'll have to travel to your lessons and if you get compensated and/or reimbursed for this time and expense. Ask about what kind of resources the school has for planning lessons and teaching materials, as well as what kind of administrative and collegial support you will have.
You'll need a contract in order to get a work visa and it's useful if the school will help you with this paper work. It can take some time to get through this process but most schools can at least help you with extending your first visa. Many schools will require you to go through their own training program, but if you have a TEFL certificate from a 4-week course or a 100-hour online course, this requirement is typically waived.
Typical class sizes range from individuals up to around 12 students. Teaching hours can be sporadic, with classes early and then late in the day. This leaves you time in the middle of the day to catch up on sleep, lesson plan or just relax.
We hope you find this information useful and you enjoy your TEFL Job in Chile.
TEFL Courses in Buenos Aires
TEFL Courses in Cusco
TEFL Courses in La Antigua
TEFL Courses in Manuel Antonio
TEFL Courses in Natal
1
2
3
>
Last ›

---